As you can probably tell by my last post (How Much Do You Think It Would Cost to Hire a Body Double to Live My Life for a While Because I'm Temporarily Dead) this week has been a complete terror. But hubby and I worked really hard to prepare for today so that it can be a relaxing day for both of us while still having the kids. We were out late last night at a family party which tired the kids out and they slept fairly late (for them anyway). We set up the PS3 downstairs so that the kids could go hang out in the den down there and keep the morning quiet. We had food ready for them when they woke up so they wouldn't scream and cry at us first thing. They had blankets and pillows and comfy chairs and pretty much everything they ever wanted and hubby and I had peace. Sweet peace, glorious peace. I slept until 9:30 and he got to play Destiny all morning (with some care for the baby in there somewhere). This kind of morning has not happened since… I don't even know.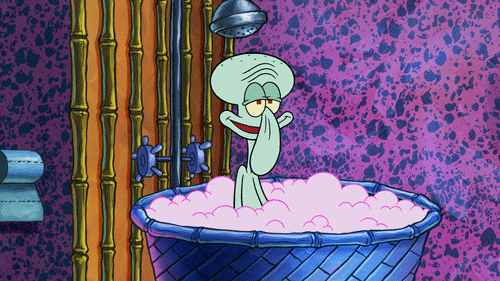 Feeling a little uplifted after that kind of a morning, I put another load of laundry together (good heaven, it never freakin' ends) and another load of dishes (ditto) and I put on a musical that I thought my daughter might like to watch with me: the Phantom of the Opera. She didn't quite understand all of the story (she's 6) but she loved the dresses and the music. As for me, I love pretending I am Christine Daae and I get to be that pretty and wanted and special. It definitely took me to my happy place. It's one of my go-to musicals to get me there. I thought I might share my list of favorites to help someone else out too.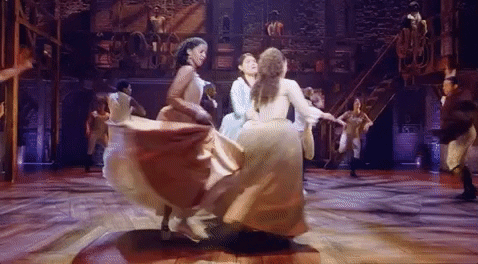 In no particular order:
Phantom of the Opera: you get to be Christine Daae, the orphan who is the daughter of the late great violinist. Her voice and beauty beat out the Prima Donna of the opera and her great voice teacher is an unseen genius. Her childhood friend, Raul has become the patron of the opera house, and he recognizes Christine singing on stage and he still loves her. It's a great tragedy and romance set in France in a time when ladies wore incredible gowns and gentlemen were dressed to the nines. It's very stereotypical, but I still love it.
Hello Dolly!: This is another musical that will transport you to the past. It's 1890 and widow Dolly Levi has been hard at work managing other people's affairs. Anything you need done, she can do it and she specializes in the art of matchmaking. When she realizes that the man she has her eye on is going to ask another woman to marry him, she comes up with a plan on the fly to be her own matchmaker. In the process, she sets up the lives of those around her and moves all the pieces into place. She is bold and lively and lovely. She has grace and elegance to spare and she only needs one day to change her future and find love once again. You'll be spending the rest of your day pretending you are Dolly Levi.
The King and I: Okay first of all Mrs. Anna's wardrobe here is amazing! I wish I could walk around in dresses like that and not be looked at like I'm due back at the mental institution any minute now. But I love this musical because Mrs. Anna Leonowens moves with her son Louis to Siam to teach the King's children about… well everything. The King has like 60 children or something like that, not to mention the children of his wives who are in trouble with him. Anna is something new to Siam because she is a woman with an education. She becomes an unofficial advisor to the King during her time there and she calls him out on some pretty barbaric traditions. I like this musical because Anna is a force to be reckoned with and not even the King of Siam was enough to subdue her. In fact, she changed his thinking and therefore his reign. And because she taught the crown prince who is still very young, she changes the ways of Siam through his education. The music and dancing are phenomenal and make me wish I was in a musical on stage in real life.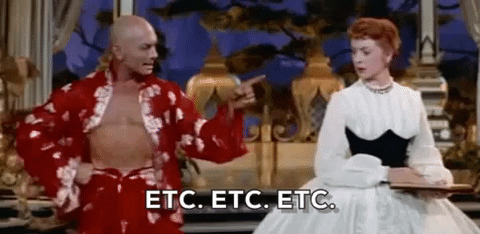 Seven Brides for Seven Brothers: I will probably catch some flies for this one. It is about seven brothers in the wild west who don't know how to treat women, but still want to marry them. That's the TL:DR version. The oldest, Adam, goes into town looking for a wife and comes home with Milly, all in one day. Milly is tough and she doesn't take crap, so when she comes home to six nasty looking brothers she realizes she is going to have to cook and clean for, she immediately makes plans to get them married and moved out of her house. She cleans them up and teaches them some manners just in time for them to go to a barn raising where they meet the girls of their dreams. The men are genuinely in love, but the ladies have tons of men to choose from. The brothers think they are never going to get a chance with their ladies so they do something terrible. They kidnap the ladies and cause an avalanche between them and the town, so they can take the ladies back to the cabin for the winter and their families won't come for them until the snow melts. They think they can make their ladies fall in love with them before that happens. They are complete idiots, but love-sick idiots (although is there such a thing as a love-sick genius?). Other than, you know, kidnapping them, the brothers are never disrespectful to the ladies and you can tell they are genuinely trying, which over the course of the long winter, the ladies see that too. They all end up falling in love and everyone lives happily ever after and really the concept of this musical is terrible, but I like the choreography and music. I mean those are some really talented men (for reference, look to the barn raising dance). Anyway, I don't care who gets mad at me. I like this musical with a horrible story. It takes me to my happy place and that's all I care about.  #maybeIhavesomeissuestoworkout
I hope that you can find ways to your happy place. Don't be afraid to like what you like. Try everything and discover new things about what makes you happy! Maybe you could comment with some of your favorite musicals! I need some new ones to try!