"Thanks, Jack, for coming to this emergency meeting. I'm sorry I'm four hours late, but my alarm clock didn't go off because it died in a cock fight last night."

Tracy Jordan, 30 Rock
I keep a screen on all the time. I can pretty much guarantee it's not a good thing, but here we are. I am a stay at home mom so that screen is pretty much my link to the adult world. I watch certain shows over and over again (usually up until the last couple of episodes so I can start back at episode 1 and it's like it never went off the air). I could dominate "The Office" themed trivia night.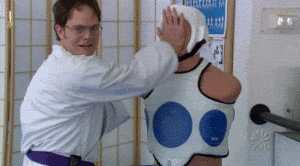 I'm one of those people that keeps the screen on at night because it's hard for me to sleep without it. I have tried and occasionally I can, but most of the time I'm up for hours thinking about terrible things like
what would I be doing right now if all my family had died in a car accident last week?
what if I had never married my husband?
what if my daughter had cancer and had to live in a children's hospital and our family had to move to be close to her?
what if I am going to die tomorrow?
what will happen to me?
will my soul actually go to be with the Lord like I hope?
I'm not a great person, maybe I will go to hell.
What will hell be like?
How will I live for eternity in hell?
Oh God, Jesus save me.
Things get real really fast when I try to go to sleep. If I turn on a show, my mind follows what's happening in the show, even though I can't see what's going on because I am literally closing my eyes to go to sleep. It's why I only put on shows that are light-hearted and familiar. I can't put on anything I haven't seen before, because then I will be too interested in what is going on and I won't fall asleep.
I've come up with some of my favorite shows I keep on loop during my time. They can all be found on Netflix, Hulu, and Amazon Prime.
Bob's Burgers – Hulu: This show is genuinely funny with its musical numbers and quirky family (and turkey). It follows the Belcher family as they navigate three children and running a not-too-successful restaurant, but they are pretty terrible at life. It makes for a great show though. 
Grace and Frankie – Netflix: Frenemies Grace and Frankie meet up for dinner with their husbands, whom they have been happily married to for forty years. They think their husbands are announcing their retirement. Come to find out, their husbands are leaving their ladies… for each other. I am not sure why but this show truly comforts me. It has its fair share of drama but it is honestly funny throughout. Jane Fonda and Lily Tomlin make me excited to get older. 
The Office – Netflix: This one had to be a given. It's the perfect show to watch over and over because the jokes never stop being funny. It follows a group of office workers in a paper company led by a completely incompetent boss. There are a few fantastic love stories to be found and a million "that's what she said" jokes.
Doctor Who – Amazon Prime: This is my favorite show in existence. I could watch this and only this for the rest of my life. It is a British show about a time-traveling alien called "The Doctor" who flies around in his T.A.R.D.I.S. (i.e. living spaceship) that is bigger on the inside than it looks on the outside. He usually has a companion with him, usually a human from earth and usually from our time period. The amount of ridiculous is hilarious in this show and the idea of dignity for all is prevalent throughout. It's been on for over fifty years! If you have never seen it, I recommend you start with the ninth doctor and push through the cheesy special effects (they get better). It's absolutely worth it. If you haven't seen it, it won't be a good one to keep on loop because it's too interesting, but when you have caught up, it makes for a great companion to your days. 
The It Crowd: This one will have you laughing so hard, so maybe keep it on during the day only. It's another British show (I end up watching a lot of those) and it follows the I.T. department of a company, which is four people. Two are socially incompetent nerds, one is a woman who lied her way into the job, and the last one… well, spoilers. Try it. Trust me. It's amazing. 
These are just some of the shows that bring me comfort. I'll probably do another post soon with more suggestions but for now, check these out. You won't regret it. Happy binge watching!